A unique setting adds to the appeal of a premium restaurant: this is how Farang, Periscope and Bank chose their premises

A unique setting adds to the appeal of a premium restaurant: this is how Farang, Periscope and Bank chose their premises
Even the highest-quality restaurant makes its first impression with its premises: what is the atmosphere like and how well does the restaurant milieu meet the customers' needs? Three premium restaurants — Farang, Periscope and Bank — explain how their premises affect their business.
How would you describe your restaurant and where is your restaurant located?
FARANG: Our restaurant is located in the refurbished Arkadia 6 building in Helsinki city centre. We are a casual restaurant with a hint of fine dining offering Southeast Asian flavours. We prepare all our dishes and cocktails from scratch, which guarantees unique and high-quality flavours. People come to our restaurant to enjoy food and have experiences that are worth sharing.
PERISCOPE: Our casual dining restaurant and venue has impressive premises in Tampere overlooking the Ratina backwater and stadium. We offer flavours of the world and prefer food that can be shared and which increases a sense of togetherness. We have the largest rooftop terrace in the Nordic countries on which we organise various events and have a daily DJ entertaining our guests.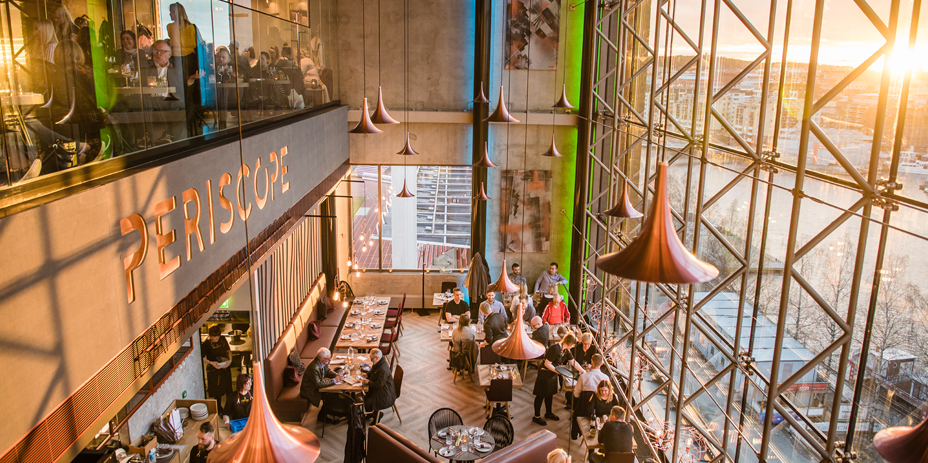 BANK: Our venue is located in Kaartinkaupunki, the most beautiful business district in Helsinki. We offer meeting rooms, hybrid spaces and event spaces, as well as high-quality catering from breakfasts to cocktail parties and seated dinners. We also offer comprehensive catering services. Our high-quality lunch buffet is open for everyone.
What are your premises like?
FARANG: We wanted the 10-year-old Farang to have premises that would serve us for the next ten years and would allow us to take our restaurant to the next level. Arkadia 6 had an impressive 800 m2 space spanning two floors, which was perfect for Farang in terms of its size, layout and appearance. Other important practical aspects, such as logistics and waste management, were also in order.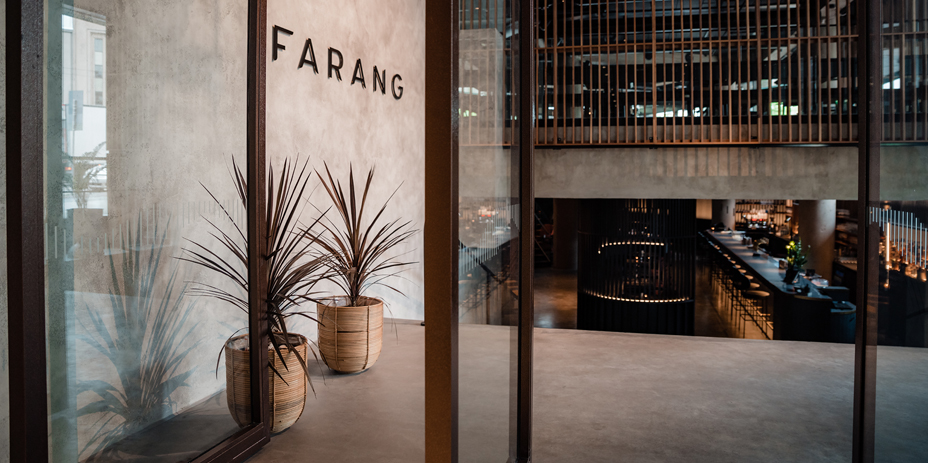 PERISCOPE: Considering the Finnish context, our premises are outstanding: a dining room with 100 seats, a lounge bar that can accommodate up to 150 guests and a 750 m2 rooftop terrace for spending the evening. The unique space and the incredible view provide the best possible setting for growing our concept, and they have also made us a landmark in Tampere.
BANK: We are located at Unioninkatu 20-22 in a prestigious building which was thoroughly renovated in 2020. The historic and carefully modernised old bank from the 1950s provides spectacular premises for a restaurant and even elevates your everyday lunch to a special occasion. The 3,500 m2 we have at our disposal can be flexibly adapted to meet the needs of a wide range of occasions and events.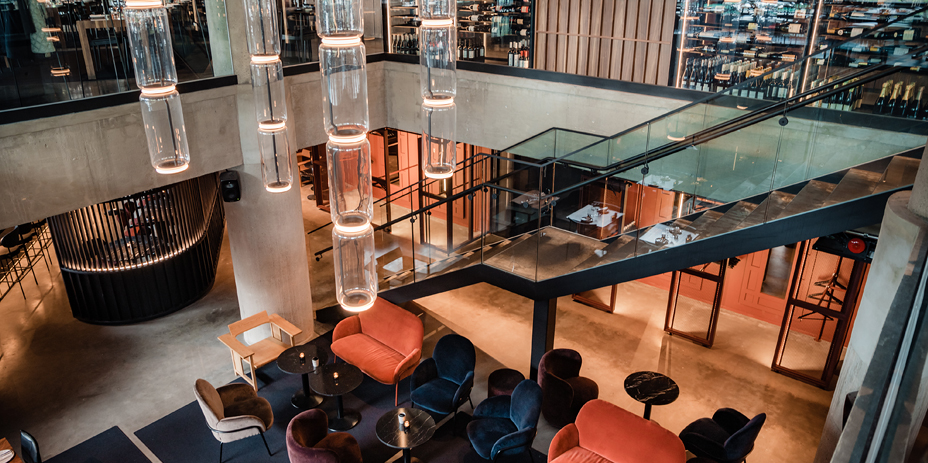 How does the location affect your business?
FARANG: To ensure easy access, a central location that is lively around the clock is very important to us. We want to be where the people are, and Arkadia is easily accessible by public transport. For a restaurant such as Farang, a central location is also important as a sign of quality.
PERISCOPE: We applaud Sponda for having the courage to build a restaurant of this scale in Tampere, and for choosing a genuinely new kind of a restaurant in this unique space, instead of a chain restaurant. We have succeeded in changing the perception of a typical shopping centre restaurant. The location has helped us make Ratina the crown jewel of our restaurant empire and a local attraction. The close proximity to the shopping centre and Ratina stadium ensures that we have a continuous flow of customers.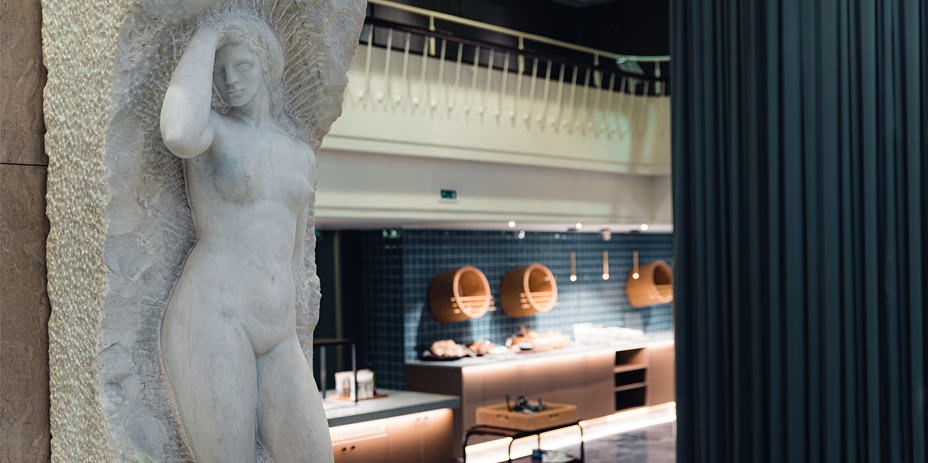 BANK: Because we have a central location close to services and good transport connections, we have been able to implement our unique concept, which includes organising seminars and events of this scale and with our level of service in the city centre. The high-quality accommodation services in the area also support our operations.
How would you describe Sponda as a partner?
FARANG: With Sponda, we could influence the design of the facilities from the outset, and we could carry out our wishes regarding the kitchens, for instance. We have very similar quality standards for the premises. Sponda has also been understanding and flexible during the pandemic, which has been challenging for the restaurant. Sponda also invests in the internal synergy and a community spirit within the property.
Our unique restaurant concept is made possible by the central location close to services and with excellent transport connections.
PERISCOPE: In a project as large as this, it is important for us that we have full trust in the expertise of both parties. As an innovative real estate developer, Sponda is open to our views, and we find it easy to discuss any development ideas with them, such as the expansion of our premises or the saunas we are planning for the rooftop terrace. We receive friendly and helpful service.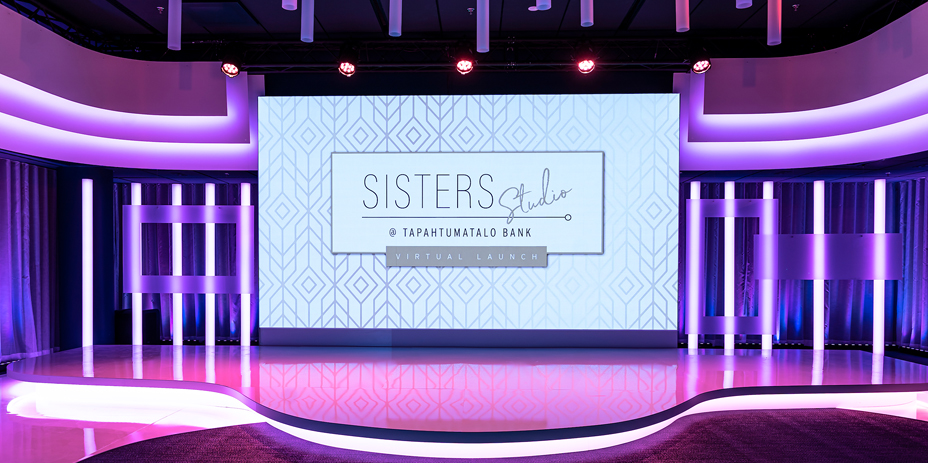 BANK: As we have a wide range of customers, the adaptability of our spaces and functions, as well as excellent communication with the property owner, are extremely important for us. Our long history with Sponda and the Unioninkatu property also allows flexibility within the building.
What services do you offer companies?
FARANG: We have a BW Business Client service for corporate customers, for instance. This service is intended for clients who appreciate high-quality food, first class service and want to offer their customers and staff premium culinary experiences.
PERISCOPE: You can book our dining room, terrace or the entire facilities for private occasions. To ensure a unique experience, our facilities include state-of-the-art meeting and audio equipment that also meet the requirements of our international guests.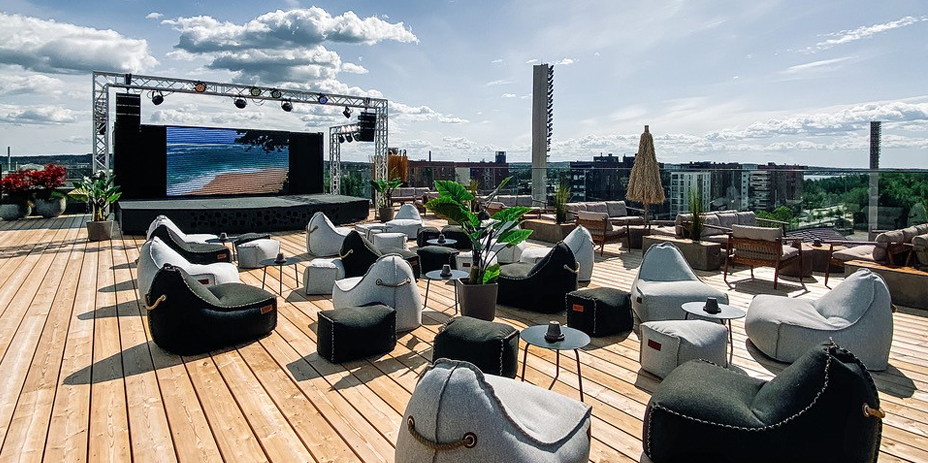 BANK: We offer a range of adaptable spaces for meetings and seminars, and we organise all sizes of events with catering included. Our auditorium is currently set up to function as a full-service streaming studio, enabling impressive and smooth hybrid events.
The answers have been provided by Farang's Chief Development Officer Kata Bäckman; Ilja Björs, the CEO of Pihka Ravintolat Oy which owns Tapahtumatalo Bank; and Arto Rastas, the restaurateur and head chef of Periscope.
Share
Interested in our properties? Take a closer look at our business premises.