Lunch break workouts, hybrid meetings and culinary experiences – Fabian 21 offers companies first-class services in Kaartinkaupunki  

Lunch break workouts, hybrid meetings and culinary experiences – Fabian 21 offers companies first-class services in Kaartinkaupunki  
Fabian 21 charms companies with its versatile services. The service offering of the Bank event centre and the Elixia fitness centre will be completed in autumn 2023, when top chef Pekka Terävä's Italian restaurant will open in the building and companies will have access to new kinds of lobby services. 
After the remote work boom, companies are increasingly investing in services available at the office. A mere workstation at the office is no longer enough. Companies want services that enable smooth daily operations and support employee wellbeing.
A work environment that enriches everyday life and promotes a sense of community is also utilised to build the company culture and lead the company.
Versatile services attract employees back to the office.
Fabian 21 is an office building providing new types of services at Helsinki's hottest business hub.
With the city block renovation in 2022, the property's main entrance was moved from Unioninkatu to Fabianinkatu.  Now, visitors are welcomed by the building's renewed lobby featuring a lounge area and lobby services.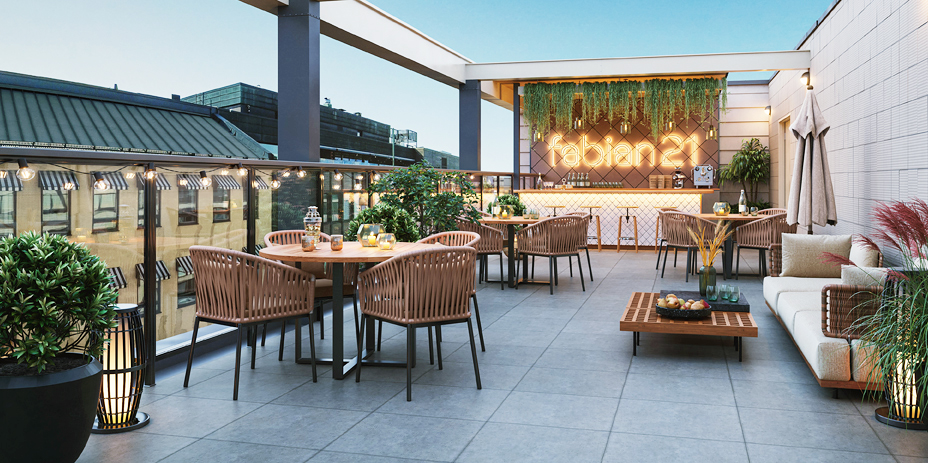 The renovation modified the property's spaces to be more functional and better suited for new service providers. The tenants can now enjoy an exceptionally wide range of café, restaurant and meeting services, and exercise opportunities.
The property's new staff facilities, bicycle parking and cleaning areas, and the nearby car park make everyday life easier.
In autumn 2023, the services will be further improved when the lobby service concept of the building is renewed and an Italian restaurant with a wine bar, developed under the leadership of top chef Pekka Terävä, opens its doors. 
Bank's services ensure smooth daily operations
The property's most comprehensive service provider is Tapahtumatalo Bank, which offers conference rooms, hybrid spaces and event spaces for companies in the area, and high-quality catering services from breakfast to sit-down dinners and cocktail parties.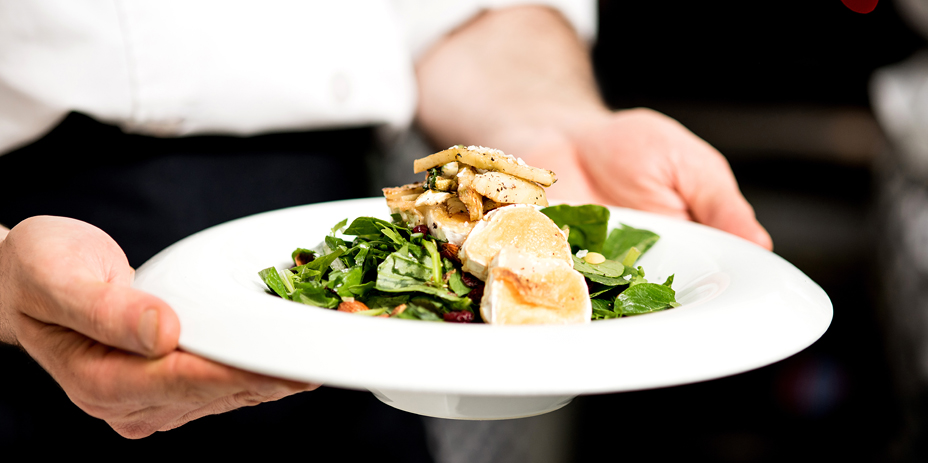 'We also provide catering services at the companies' premises and respond quickly to other catering or space requests. Our high-quality lunch is also open to visitors,' says Mari Luukkonen, Head of Restaurant Operations at Bank.
The wide range of services opens up new opportunities for collaboration between businesses.
Even the lunch buffet is enjoyed in a prestigious setting; the historic and carefully modernised 1950s bank serves as the dining hall.
Tapahtumatalo Bank has approximately 3,500 square metres of adaptable space and 20 conference rooms in various sizes, enabling larger seminars, shows and celebrations.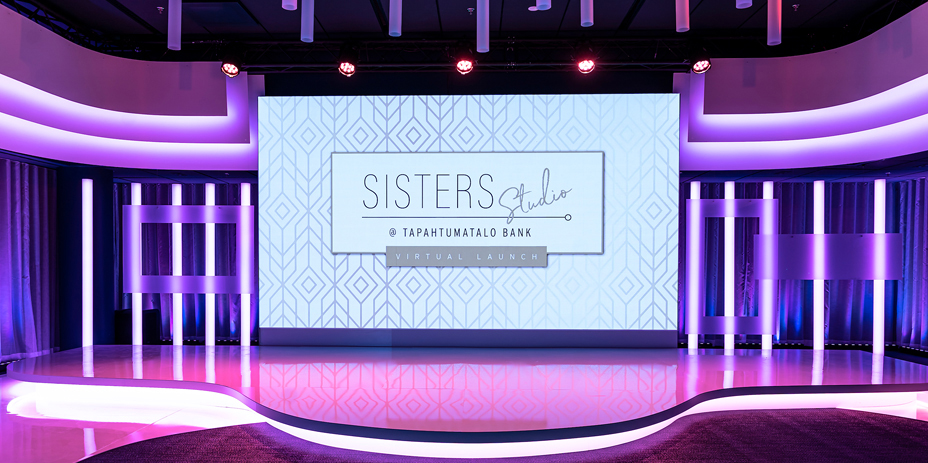 'Companies can also rent the full-service auditorium, which can be transformed quickly into a streaming studio or an unforgettable event venue,' says Luukkonen.
Elixia adds movement to the workday
At the end of 2022, Elixia moved to Fabian 21, and Kaartinkaupunki received its first fitness centre. The fitness centre inspires people working in the building and local residents to be physically active. In addition to a gym, Elixia offers group training and personal training services.
The renewed 1,158 m2 facilities also feature a versatile functional training space, a wide range of cardio machines for aerobic exercise, and stylish saunas. The fitness centre's Elixia shop also serves its customers.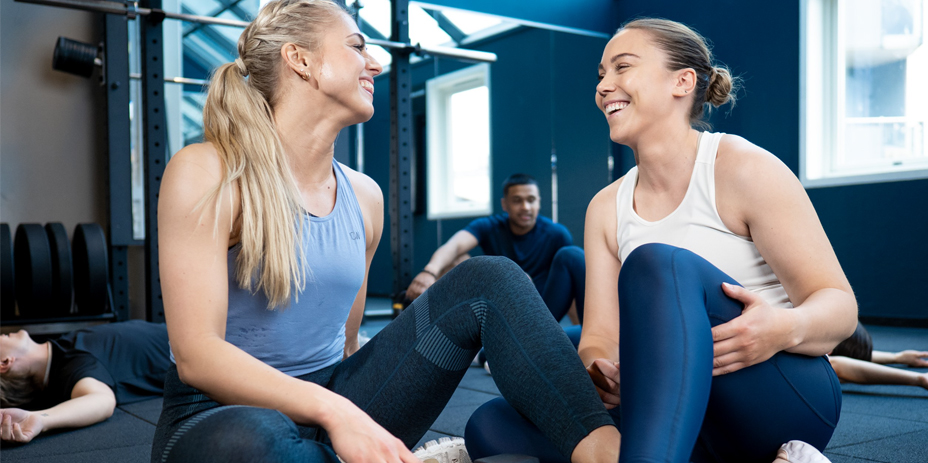 'Our mission is to make physical activity as easy for our customers as possible. You can go to the gym or participate in group training any time: before work, on your lunch break or after work,' says Elixia's Country Manager Jussi Raita.
Elixia offers an even wider range of services to corporate customers. To support wellbeing at work, the fitness centre organises various activities tailored to companies' needs, such as events, group training challenges or staff workouts led by a personal trainer.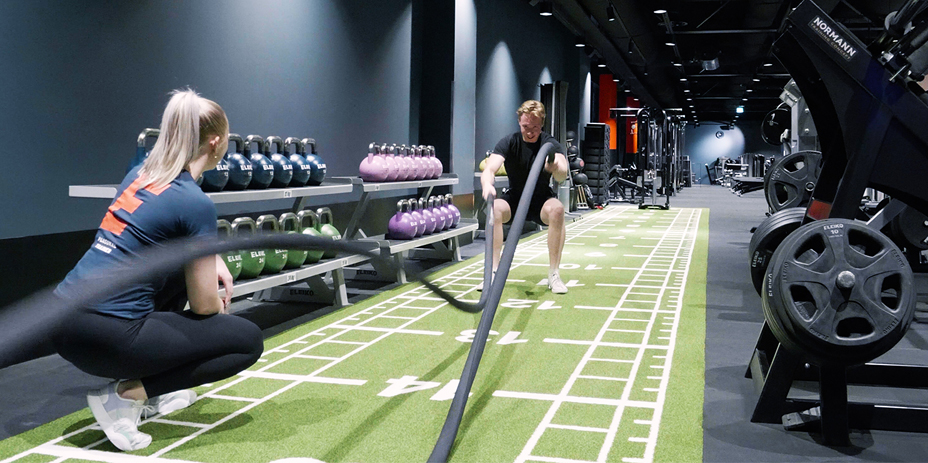 According to Raita, the location and facilities are the best features of the new fitness centre.
'There was no fitness centre in the area before, and the centre is easily accessible. The facilities are functional and tailored to suit the exercise habits of our customers. After the pandemic, the popularity of group training is growing strongly, so we definitely need this new centre, which complements our fitness services at Helsinki city centre,' says Raita.
Authentic Italian flavours
Opening in the building in autumn 2023, Pekka Terävä's Italian restaurant Ristorante Scolare and the Banco Vini wine bar, which operates in connection with the restaurant, are part of the Olo Collection group that has grown around the Michelin restaurant Olo. 
Ristorante Scolare promises to charm guests with personal dining experiences and a relaxed urban atmosphere. The Banco Vini wine bar attracts visitors with Italian wines and interesting antipasti.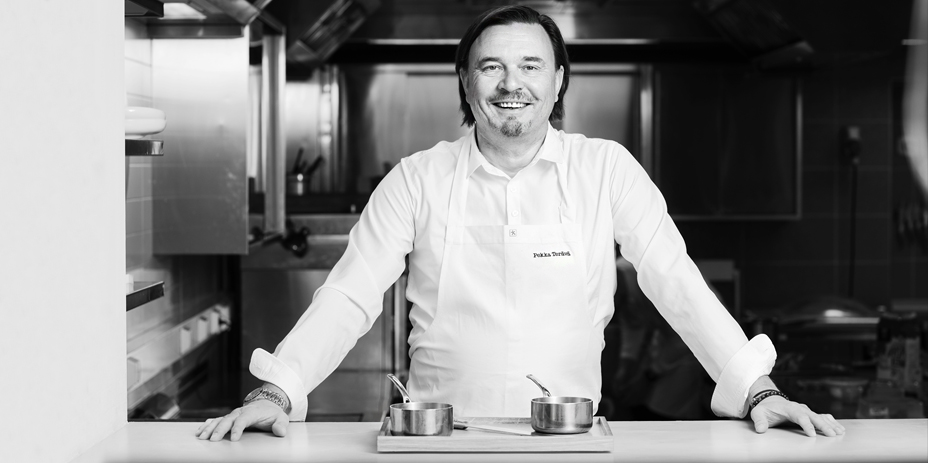 'We prepare everything by hand from start to finish. We want to offer a restaurant experience with perfect tastes and a perfect service that allows our guests to take a break from everyday life and work for a while. We are also open to companies' individual needs and cooperation,' says Terävä.
Designing the restaurant for the new premises in the middle of the lively Kaartinkaupunki was a dream come true for a long-time restaurateur. 
Ristorante Scolare offers its guests Italy on a plate.
'There has been no need for compromises at this location. The facilities are great, the technology is functional, and there are plenty of attractions all around. We have a cosy 50-seat wine bar, a spacious 100-seat dining room and three private rooms that can be combined to meet the customer's wishes,' says Terävä and smiles. 
New lobby service concept
In autumn 2023, users of the building will also be able to enjoy tailor-made lobby services that expand according to the companies' needs.
Companies can outsource tasks such as event arrangements, catering orders, guidance for new employees, mail handling, parcel deliveries and customer accommodation to skilled lobby staff. 
'The goal is to make the everyday life of tenant companies as smooth as possible. Personal laundry, lunch, massage, tyre change and bike repair services can also be ordered from the lobby, which helps employees combine their own everyday life and work,' says Ilkka Tani, Key Account Manager at Sponda.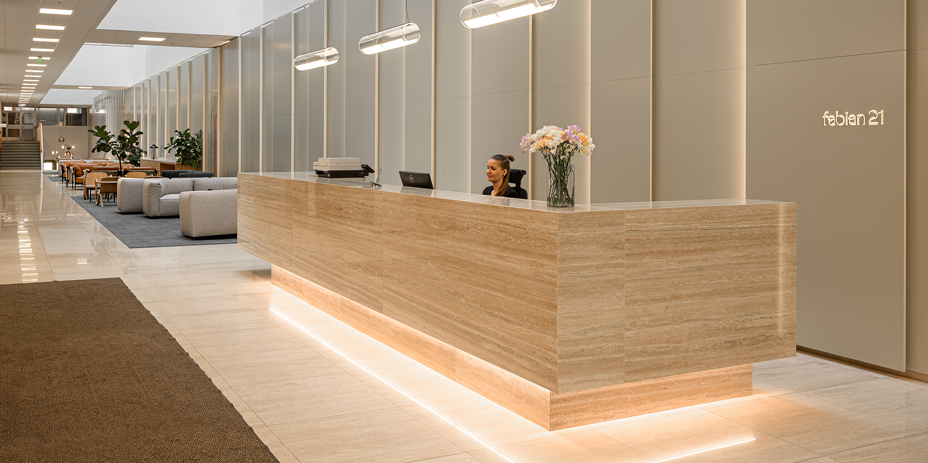 Fabian 21, equipped with the city's best business services and renovated workspaces, is building a new state-of-the-art well-being office that will optimally support the well-being of both employees and customers.
'After years of working remotely, well-being at work is becoming a new kind of competitive factor that has an increasingly significant impact on the success of the company through recruiting top talent and motivating employees,' summarises Tani.
Location as a status symbol – Kaartinkaupunki elevates businesses to first class! Read the article >>
Share
Interested in our properties? Take a closer look at our business premises.