The sustainability of business premises became a new indicator of brand value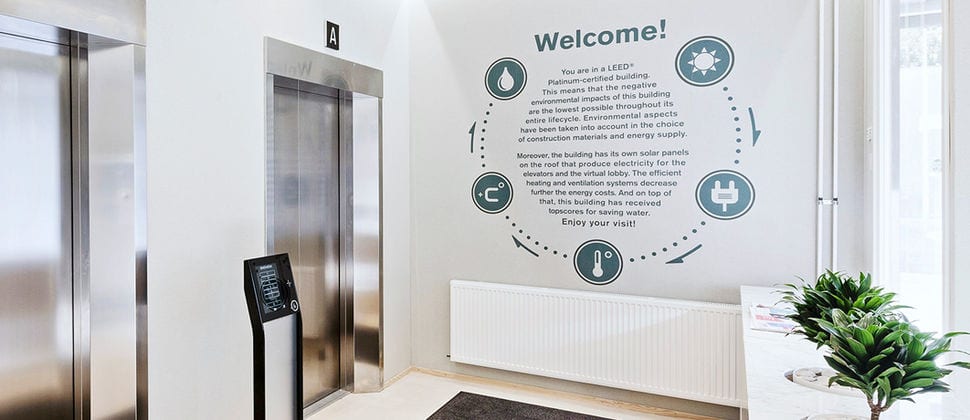 The sustainability of business premises became a new indicator of brand value
The sustainability of a company takes concrete form in customers' eyes in its business premises, which is why this area is seeing increasing investment.
Increasing environmental awareness and more effective solutions for reducing energy consumption are putting companies under pressure to conduct their business more sustainably and responsibly than before. This phenomenon is also reflected in companies being more eager to invest in the eco-friendliness of their business premises.
"Unlike before, companies are now prepared to change their ways of working to observe green values and prove that they genuinely measure up to their stated values", says Pirkko Airaksinen, Sustainability Manager at Sponda.
The companies that design business premises must create premises that provide opportunities for these changes. For Sponda, this means taking sustainability and responsibility into account across the full life cycle of properties. Customer companies can work with Sponda to create tailor-made environmental programmes that cover aspects such as heating, lighting, waste management, water conservation and transport.
"Buildings account for a large proportion of the world's carbon dioxide emissions. As a leading player in our industry, we want to develop properties that encourage their users to adopt environmentally friendly ways of working", says Airaksinen.
KONE Elevators put its values out in the open
One organisation where green values go beyond mere words is the globally successful Finnish company KONE Elevators.
The company's head office is located in Estradi, which is one of the most energy-efficient office buildings in Finland. Long-term co-operation with the property owner Sponda gave KONE the opportunity to influence the design of the premises.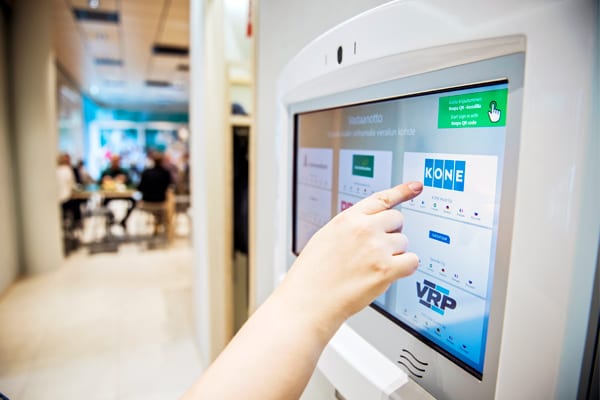 "Being responsible and environmentally friendly are important elements of our company values, and we want our actions to match our words. We support sustainable development through our choices. This is reflected in our property choices as well as our production operations", says Niko Väisänen, Sourcing Category Manager at KONE Elevators.
Genuinely effective solutions make an impression on customers and stakeholders
Väisänen says the company is proud to show customers and stakeholders around the property, as this conveys a strong impression of the company's green values.
At Estradi, like other newly constructed Sponda properties, issues such as waste sorting and recycling were taken into consideration right from the design phase. KONE Elevators has taken its commitment to recycling a step further. There are no waste bins at the employees' workstations. Instead, waste is recycled via a sorting station located in the middle of the office.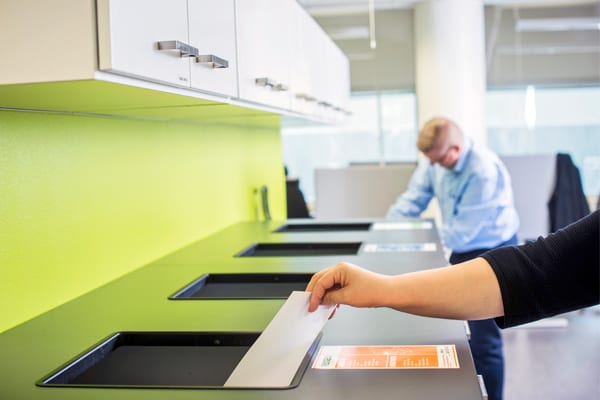 "We are a paperless office, and having employees without their own designated workstations supports our goals. There is much less paper accumulated on desks when people change from one workstation to another as needed."
MOW's responsible brand image extends to its member companies
As a pioneering company, Sponda also aims to create new ways for companies to be responsible. One such initiative is Sponda's coworking concept MOW. The concept is closely in line with the WWF Green Office standards, and MOW premises are located in BREEAM environmentally certified properties. The central locations of the properties also support environmentally friendly decisions by customers when it comes to mobility and transport.
"Our customer companies see significant added value in the fact that their membership in the genuinely responsible MOW concept increases their brand equity", Airaksinen explains.
Sponda – the most responsible player in its industry
Sponda ranked among Europe's best companies in the 2017 GRESB international sustainability benchmark study. Sponda's result was the best in Europe within its peer group. The company was also selected as a Sector Leader in 2017, in other words, the leader in sustainable development in its sector.
Published 4.5.2018
Share