MOW Stargate co-working space is heaven-sent for freelancers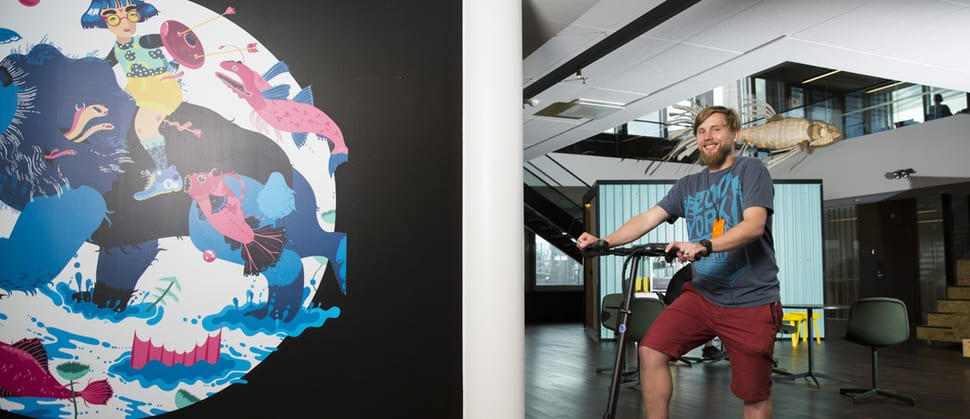 MOW Stargate co-working space is heaven-sent for freelancers
Newly launched at the start of August, MOW Stargate in Ruoholahti is the latest venture by the team responsible for the hugely popular Mothership of Work co-working concept. The futuristic office space offers freelancers a chance to tap into a community of like-minded professionals, while larger businesses will also benefit from the flexible facilities on offer. Freelance journalist Pi Mäkilä gave the new space a try during the launch week.
The popcorn maker is popping, the coffee machine is humming and the dulcet tones of some laidback jazz music are emanating from reception. The day is just beginning at MOW Stargate, the newly launched co-working space on Porkkalankatu in Helsinki's Ruoholahti district, but the corridors are already buzzing with people and voices.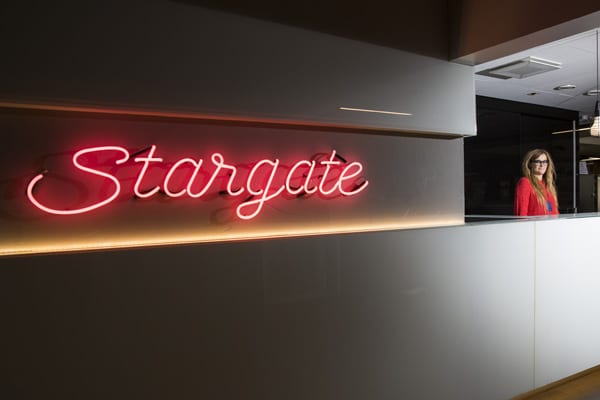 Obviously, seasoned hot-deskers like me can get down to work anywhere, but the MOW experience can't be beaten. Previously the HQ of Finnish alcoholic beverage giant Altia, the building has undergone a complete overhaul, and now only the dark stained wooden flooring and office wall materials serve as a reminder of its past.
The freshly-unwrapped office furniture looks incredibly comfortable and inviting, and anyone looking for a bit of peace and quiet can retreat to a soundproofed telephone box or one of the quiet spaces on offer.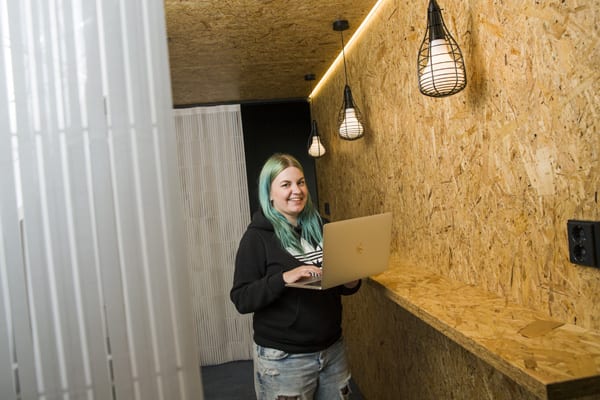 "Grab a cup of coffee and choose any desk you like," MOW Stargate Captain Dana Hautanen says.
At Stargate, the coffee isn't just any old brew. Today's choice is dark roasted, newly ground and especially chosen for Stargate from a micro roastery. For tea drinkers, there are a minimum of ten varieties on offer at any one time and the water, it goes without saying, can be heated to just the right temperature for your chosen leaf. There's no need to carry a card or cash as the coffee, tea and popcorn are all included in your rent.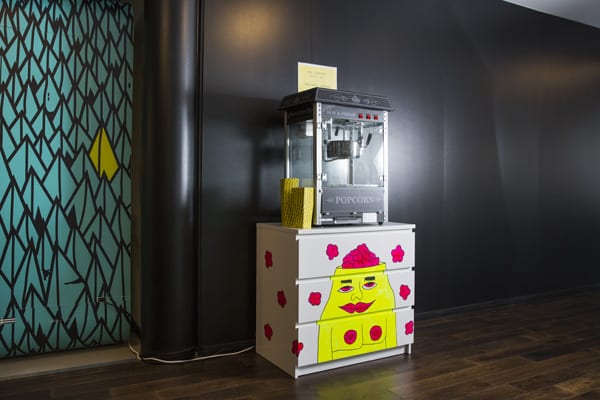 Space across three floors
MOW Stargate works on the same concept as the original Mothership of Work over on Pieni Roobertinkatu, offering a flexible co-working space for freelancers and businesses of all sizes. Compared with the Mothership in trendy Punavuori, the Stargate offers a little bit more space.
Located away from the very centre of Helsinki, within the Ruoholahti business hub, Stargate offers great access by car, making it ideal for commuters, including those arriving from outside of the Finnish capital.
Stargate is also the ideal solution for bigger businesses looking for more space, offering office and meeting facilities to help you cope with extra demand during overseas staff visits or when you need a home away from home during an office refurbishment project.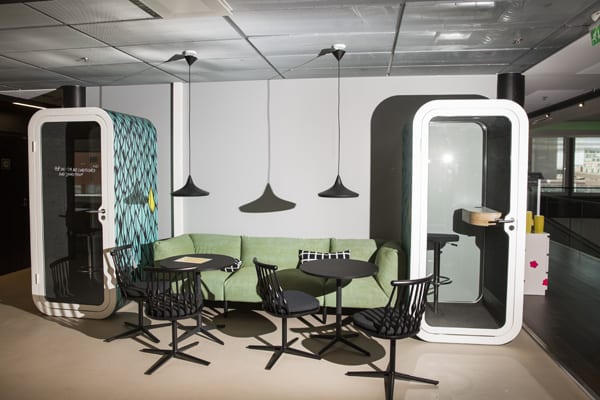 Hautanen says there is still some capacity at the 2,500 sq m space, split over three floors. In total, it can accommodate 300 workers.
"We've only just opened so we still have some capacity left. Now that our latest venture is up and running, our members can make use of both MOWs. Our free morning yoga classes, for example, run at both sites but at slightly different times," Hautanen says.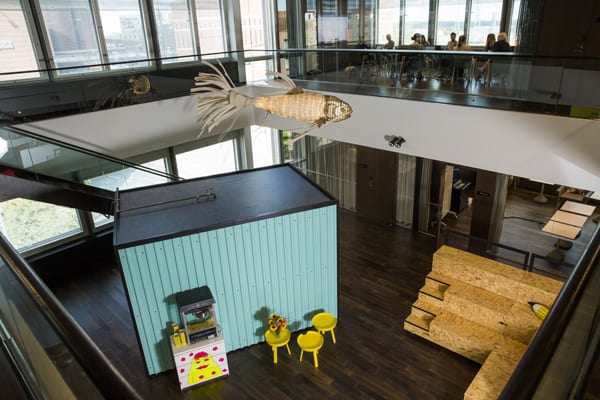 Co-working is the next big thing
Co-working spaces continue to grow in popularity as the number of freelancers and other self-employed professionals increases. Larger businesses are also interested in the flexible facilities on offer and the concept of co-working itself.
The phenomenon reflects a wider social trend, according to Dana Hautanen.
"Co-working is definitely the future. That focus on the future and what is coming next is reflected in everything that we do from the interiors to our business model. For us, things like sustainability, recycling and even the WWF's green office concept are such a given now that we've decided not to make a big deal of them.  It is the obvious way to do business for us."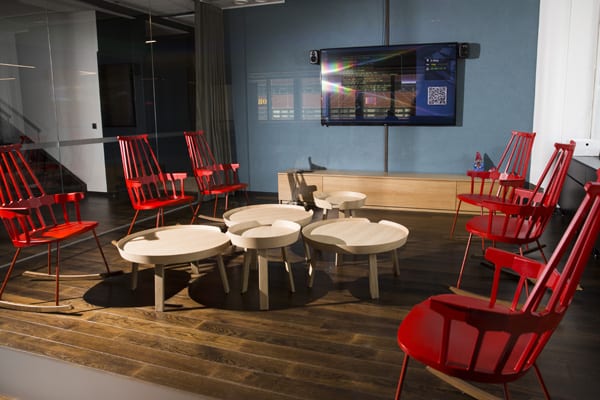 That mindset is very much in evidence as Stargate's IT Specialist Tommi Ekholm whizzes by on an electric scooter on his way from one end of the office to the other. The scooters are available for all members to use and can even be taken outside the building, along with the electric car and city bikes waiting in the garage. But there is more to MOW than just green values and future focus. Hautanen says that many people who join are simply bored of working in isolation.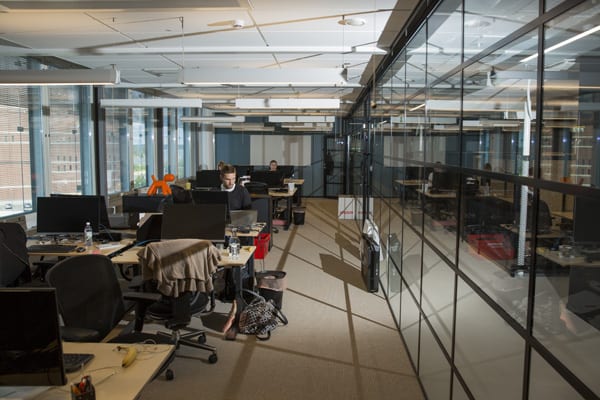 "I'm a big believer in the power of groups. Having that chance to meet new people and discover new ways of thinking is what I believe drives people's creativity. Many of the people who work here tell us that the communal aspect of being here has actually made them better at what they do."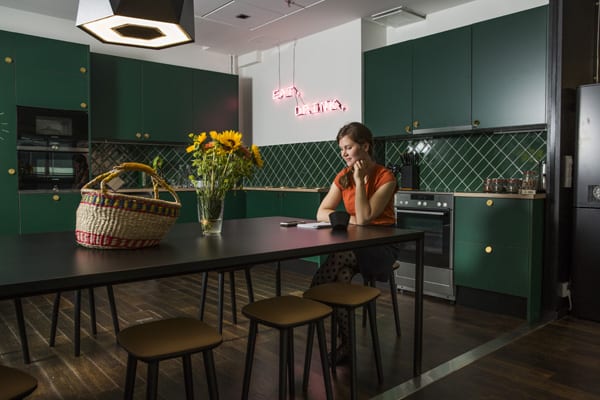 MOW is open to all but has proved particularly popular among people in the creative industries
"It remains to be seen what sort of people end up finding their way to Stargate," Hautanen says.
"We had an open day at the start of August and things got really quite crowded at times."
A place in the sun
On a sunny day, MOW Stargate offers something that people working next door can only dream of: its very own roof terrace. It is the ideal spot for some post-lunch chilling and is also suitable for work purposes, provided the sunshine doesn't make your laptop screen completely unreadable.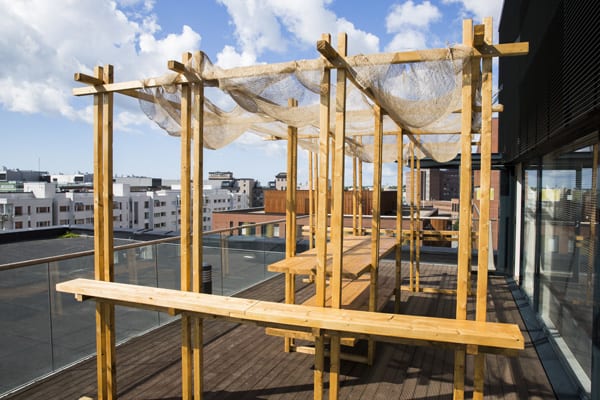 The terrace can be converted into a meeting space or even a bar, Dana Hautanen says. Members also have the option of hiring the terrace and the adjoining indoor space for their exclusive use.
"We are always doing casual after work events and all sorts of get-togethers and hang-outs are a key part of what we're about. Our official launch event is due to take place on the Night of the Arts on 24 August, when Stargate will be opening its doors to everyone looking for a great party," Dana Hautanen concludes by way of an invitation.
Published 21.8.2017
Share