Smart retail spaces are an emerging trend – Keittiömaailma has invested in a unique customer experience

Smart retail spaces are an emerging trend – Keittiömaailma has invested in a unique customer experience
Smart technology offers retailers new opportunities for enhancing the sales process and improving the customer experience. Keittiömaailma's smart pilot store in the Ratina shopping centre takes buying a kitchen to a whole new level.
Entering Finland's first digital kitchen showroom is like walking into a trade fair. The Keittiömaailma pilot store at the Ratina shopping centre in Tampere has been designed to make it easy for customers to browse and experience the options available to them.
The shopping centre environment enables us to reach customers who are ready to try something new.
The use of smart technology is intended to even inspire and serve customers who are not currently thinking about buying a new kitchen.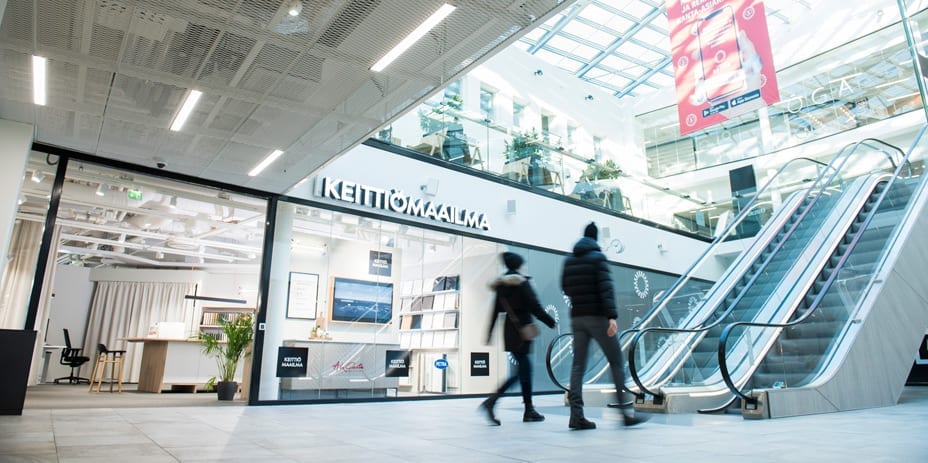 "Most people only buy a kitchen once or twice in their life, so we want to make an impression on people when they see our store. The shopping centre's continuous customer flows, large shop windows and the open entrance, which brings to mind a trade fair, create the ideal conditions for us to implement this new retail concept," says Keittiömaailma's Store Manager Taru Supinen.
A virtual tour of your dream kitchen
The first thing that catches your eye as you enter the Keittiömaailma store in Ratina is a person wearing a virtual reality headset. VR headsets are a big part of the store's concept. They give customers the chance to step inside their dream kitchen for a virtual tour.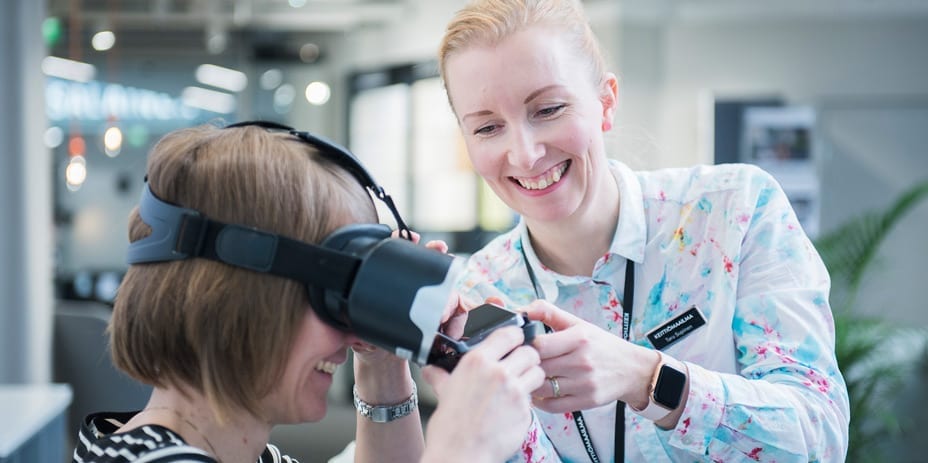 "When you're selling a kitchen, you're really selling an idea – the finished product does not exist until it has been built. VR technology allows the customer to see and experience the product in the design phase and get more specific about their wishes," Supinen explains.
In the Design Studio next to the store entrance, customers can test various combinations of colours and materials with the help of pre-designed collages of ideas and images.
For example, they can choose their preferred cabinets, countertops or drawer handles and compare them with the choices suggested by interior designers. Touch screen displays make it easy to browse the selection of household appliances and the prices of furniture.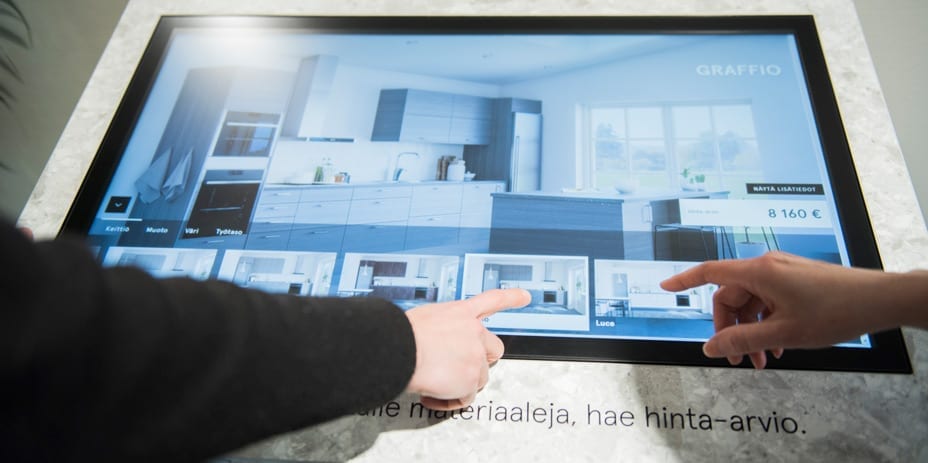 In the store's Tech Lab, customers can familiarise themselves with the mechanisms related to kitchen furniture as well as example sizes of the items. Making side-by-side comparisons is easy and fast. There are also signs encouraging customers to make their visit a hands-on experience by trying the way various solutions work.
Substantial savings in terms of the amount of space needed
Supinen says the smart pilot store is a response to changes in the industry and in customer behaviour.
"The number of choices related to kitchen ranges and the amount of data have both increased tremendously. In the past, it might have been enough to replace cabinets with drawers, but today's customers want increasingly comprehensive solutions. It is essential to find ways to use technology to manage information and provide excellent service to customers," Supinen says.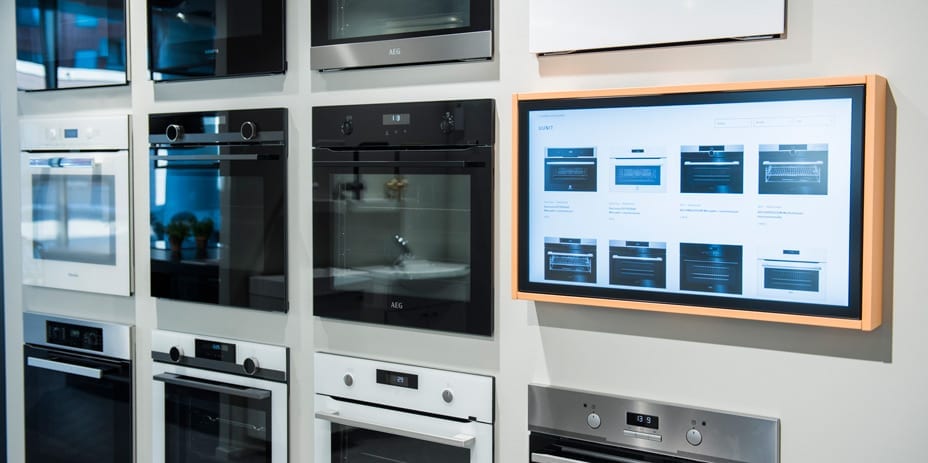 The digital concept meant a dramatic change in the amount of space required for the new store. The smart store in Ratina is 270 square metres in size, compared to 800 square metres for a traditional Keittiömaailma store.
Other Keittiömaailma shops will be gradually converted into smart stores.
"The use of digital technology means that we can get by with only four kitchen showrooms instead of 20. The compact store design also allows us to quickly put new products on display and our ranges of kitchens don't become outdated, which creates further cost savings," Supinen adds.
Savings and process efficiency drive the use of smart technology
Tomi Teikko, Founder, Adviser and Evangelist at Tieto, the leading software and service company in the Nordic region, suggests that businesses use smart technology in their retail spaces for two different reasons.
Businesses use smart technology in their retail spaces for two different reasons.
The primary goal is to make the buying process smoother and achieve cost savings through the use of self-service solutions or robotics. The second goal is enhancing the customer experience.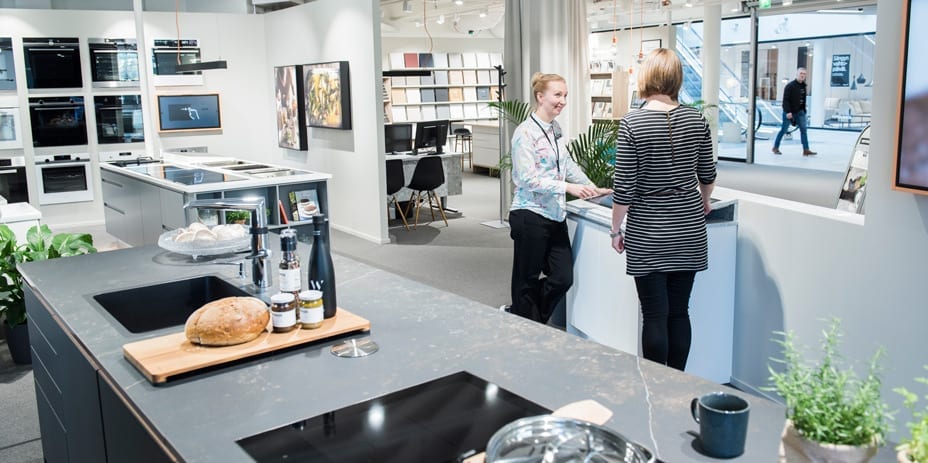 "Many retailers use indoor location technology, for example, to deliver a better customer experience. The most commonly used solution is navigation to help customers find the products they are looking for. Stores also have smart fitting rooms and smart trolleys. The boldest retailers are experimenting with tailored marketing, which refers to delivering targeted marketing messages to identified customers when they are in the vicinity of a digital display," Teikko explains.
Convergence between online shops and brick-and-mortar stores
Teikko expects the digital transformation to bring about a convergence between the online shopping experience and the brick-and-mortar shopping experience.
The first VR stores simulate the brick-and-mortar store, but they will become more virtual and innovative as time goes on.
"Digital solutions enable retailers to make a larger number of products available in a small space. A customer can visit a brick-and-mortar store to try on a product, after which a robot will produce an individually customised item based on selections made in a digital catalogue and the measurements taken in the store. Another possibility is the virtual brick-and-mortar experience, which involves wearing a VR headset to walk through lifelike virtual showrooms to combine products from various manufacturers," Teikko says.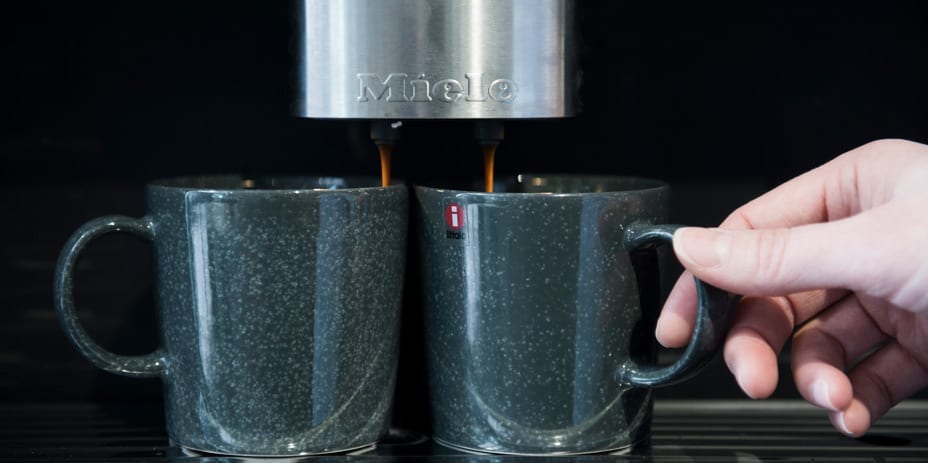 Teikko believes that the first generation of VR shops will largely simulate the traditional brick-and-mortar stores that consumers are familiar with.
"VR-based shops will then evolve to become increasingly virtual. For example, a clothing store could have a digital copy of the customer, complete with a full set of measurements, allowing the customer to try on a garment in different virtual settings and see it from a third-person perspective," Teikko concludes.
Share
Interested in our properties? Take a closer look at our business premises.