Ratina – not a shopping centre, but an urban centre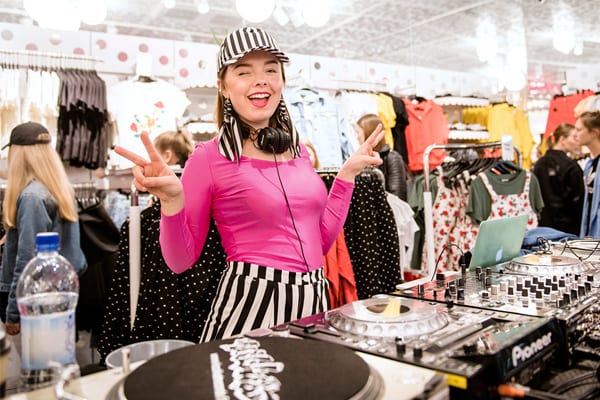 Ratina – not a shopping centre, but an urban centre
Created with a new, community-oriented approach, the Ratina shopping centre changes the urban culture of Tampere and significantly increases the city's appeal.
It all comes down to having a shared vision. Ratina's developer Sponda and the City of Tampere have had a common goal right from the start – to increase the city's appeal and create new urban culture in Tampere.
"Ratina is more than a shopping centre. It is a centre for entertainment for the entire Pirkanmaa region."
"Ratina invigorates the city's business life and improves employment by creating a thousand new jobs. Ratina also livens up the city's urban culture and Ratina's new services will attract more people to the city from the Pirkanmaa region and elsewhere in Finland," says Harri Airaksinen, CEO of Business Tampere.
Location is the primary factor behind Ratina's appeal
According to Ratina's Shopping Centre Manager Mervi Ahola, the most important factor behind Ratina's appeal is its location.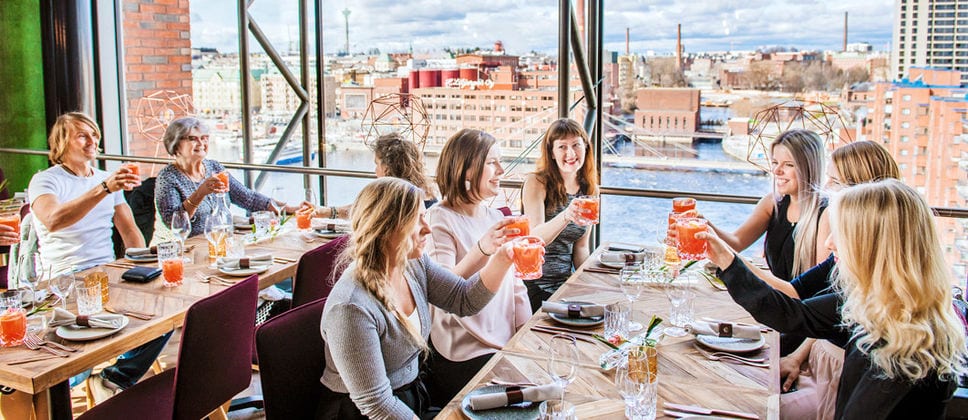 "This is an easily accessible location for those who live in the city centre but, right from the start, we have also given consideration to our visitors from further away. Coming to Ratina by bicycle and public transport is very easy, and we also built Tampere's largest indoor car park, with a capacity for 1,200 vehicles," Ahola explains.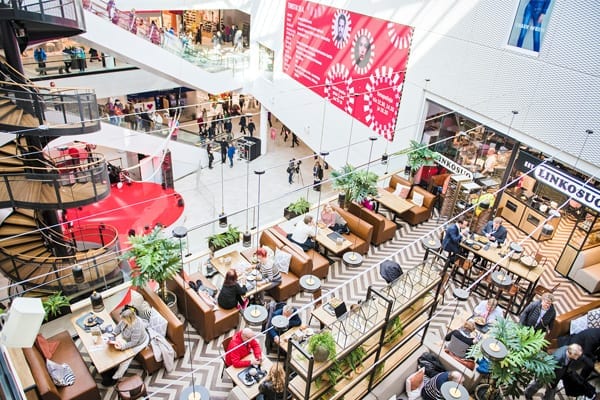 Both Airaksinen and Ahola are confident that Ratina and the Central Deck and Arena project currently underway will transform not only the city centre's architecture and business life, but also the urban structure in a broader sense.
The City of Tampere also has other plans in the works to change the local cityscape, such as the new residential district of Viinikanlahti, which will grow the city from the Ratina area towards Pirkkala, bringing in new residents and customers with easy access to Ratina's services.
New brands revolutionise the service offering
As the largest shopping centre in Tampere, Ratina brings about a manifold increase in the city centre's service offering. As many as 40 of the shopping centre's 110 shops are brands that are new to Tampere.
As many as 40 of the shopping centre's 110 shops are brands that are new to Tampere.
For many international retail chains, Ratina presents an attractive opportunity for entering the Finnish market – retail space is slightly less expensive than in the Helsinki metropolitan area and the lower cost of living means that the local residents have higher purchasing power.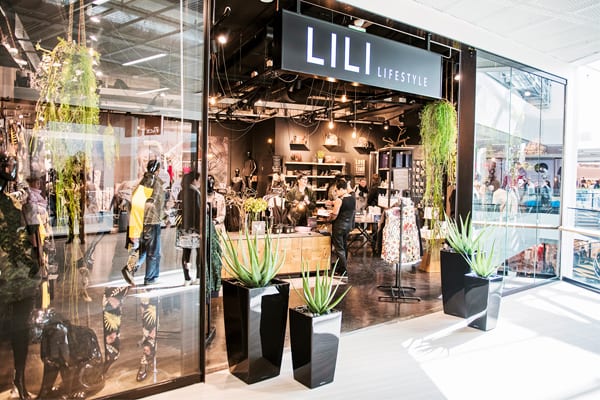 "Many of the new brands were eagerly awaited by shoppers in Tampere. The clothing store Zara, the trendy clothing chain Monk and the Swedish interior decorating brand Granit were all high on people's wish lists," Ahola says.
Children are a high priority at Ratina, and they are sure to enjoy the Mini-Ratina play area that will open in May. The selection of shops also includes a variety of children's brands, including Wauva, a new arrival to Tampere, and the children's clothing stores Reima, Newbie and Blaa Pop Up.
An injection of new life into the city's restaurant culture
The shopping centre brings 16 entirely new restaurants to Tampere. The wider selection and longer opening hours will attract locals to dine out more frequently than they used to, and they will also diversify their restaurant habits.
Examples of Ratina's new and highly awaited restaurants include Hanko Sushi, Kung Food Panda, Sandro and ZiCi. Of the many new cafés, Mumin Kaffe deserves a special mention.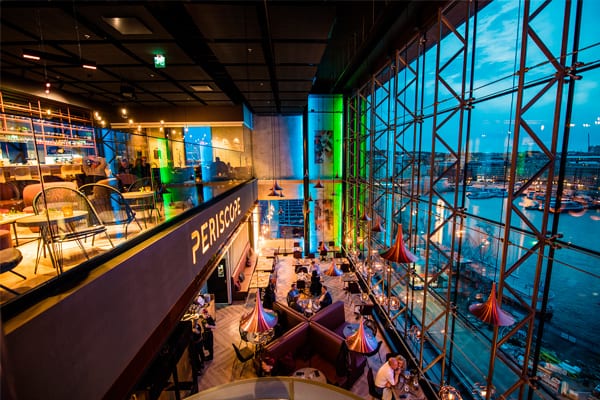 "Top chef Arto Rastas' restaurant Periscope is sure to become a popular destination for connoisseurs of good food, even for those who don't live in the Tampere region. With its impressive terrace and views of the Tammerkoski rapids, it is a unique experience," Ahola explains.
In the summer, Ratina will also become a new centre for outdoor entertainment, with the Olympia Square and Ratina Plaza coming to life with their sunny stairways and cafés.
Culture and mini-golf
Ratina's central location and adjacent stadium create a new kind of setting for lively and genuine urban culture.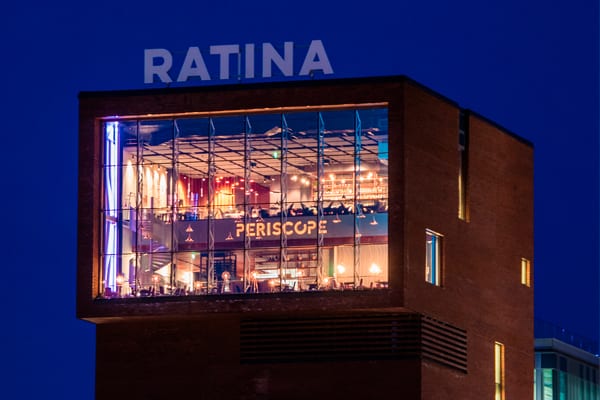 "We have a diverse programme of events lined up for our fantastic inner courtyard. In addition to arranging events ourselves, we will also participate in events organised by the city and other partners. Much of it will revolve around entertainment and culture, but we are also actively involved in social development efforts," Ahola adds.
Ratina will also offer opportunities for physical activity in the form of the Fitness24Seven fitness centre and the Hohtogolf West Coast glow in the dark 18-hole mini-golf course with exciting special effects.
Modern working culture
Ratina's impact will be felt not only in people's free time, but also in the way people work. Ratina sees Sponda's popular coworking concept MOW expand from Helsinki to Tampere.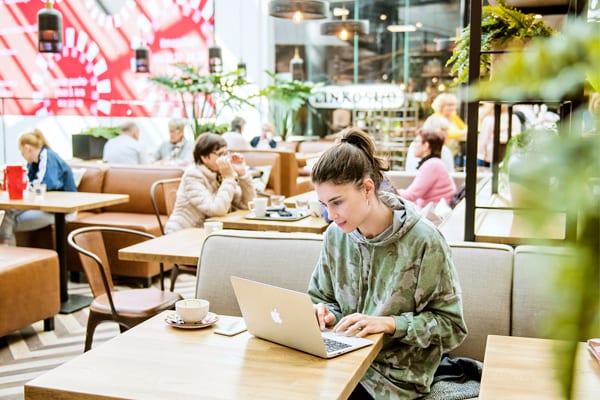 Another interesting prospect for businesses is the Ratina office building that is under construction adjacent to the Ratina shopping centre. With 13,000 square metres of modern spatial solutions, it will be a welcome and transformative addition to Tampere's traditional stock of office premises.
Tampere's largest and Sponda's biggest
Ratina is Tampere's largest and Sponda's biggest shopping centre. It is also the largest property development project in Sponda's entire history. Ratina provides about 1,000 jobs. The estimated annual number of visitors is eight million and total annual sales are estimated at EUR 200 million. With a total floor area of approximately 53,000 square metres, Ratina has 110 shops as well as 26 restaurants and cafés.
Published 6.5.2018
Share