No Pizza woos millennials by breaking boundaries while having a strong focus on sustainability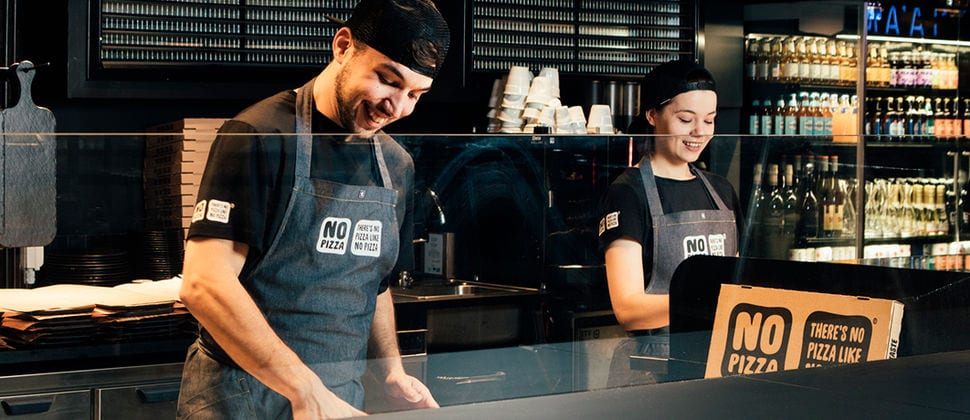 No Pizza woos millennials by breaking boundaries while having a strong focus on sustainability
The No Pizza restaurant in Citycenter is changing people's ideas about pizzas and casual dining environments — with no cash accepted. The primary cornerstone of this radical brand is sustainability.
Kotipizza's new No Pizza restaurant concept is revolutionising Finnish pizzeria culture in many ways. The concept has shaken up the market by introducing sourdough pizzas and an innovative casual dining environment enriched by art and a unique soundscape.
Even the way the pizzas are served is different. Customers can select from inventive combinations of toppings, more than half of which are added to the pizza after baking.
"Customers can order a pizza through their mobile phones and receive a notification when it's ready. This allows them to go on shopping instead of wasting time standing in line."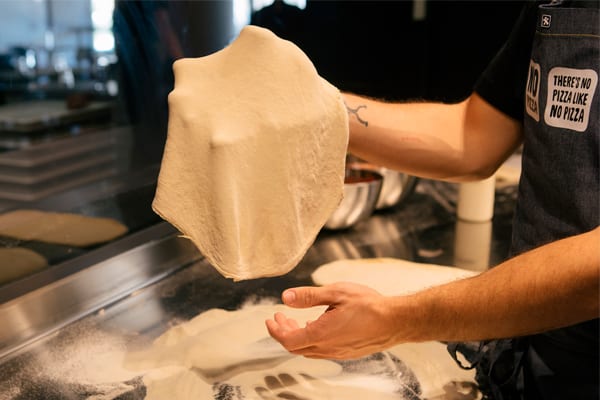 "The core of the concept is our carefully developed sourdough crust. The name of the restaurant is derived from our concept, which is to make an impression on our customers by a very simple principle: we say yes to good things and no to bad things. Our distinct views reflect the primary cornerstone of our operations, which is sustainability," says Riikka Ahtiainen, Development Director at KotiPizza Group.
Abandoning cash improves security
One of the things the restaurant has decided to say no to is cash. Payments are made by card, with mobile payments to be introduced in the future.
"Choosing not to accept cash increases the security of our employees and represents a better alternative from the environmental perspective. We also use technology to make the buying process easier. Our customers can order a pizza through our app or webshop and receive a notification on their phone when the food is ready. This means they don't have to waste time standing in line when the restaurant is busy. They can continue to shop and come to the restaurant when their pizza is done," Ahtiainen explains.
Convinced by Citycenter's location and emphasis on sustainability
No Pizza aims to become an international restaurant chain, and the branch opened in Citycenter is intended to be the only No Pizza restaurant in Finland. This means that the restaurant's location was very significant to the brand.
"We wanted to be in the central business district, the most international location available in Helsinki, and we wanted to have a business premises partner that matches our values." 
"We wanted to be in the central business district, the most international location available in Helsinki and Finland, but we also wanted to have a business premises partner that matches our values. We are impressed by the strong focus on sustainability at Citycenter. Things like the sorting and recycling of waste are impeccably arranged," Ahtiainen adds.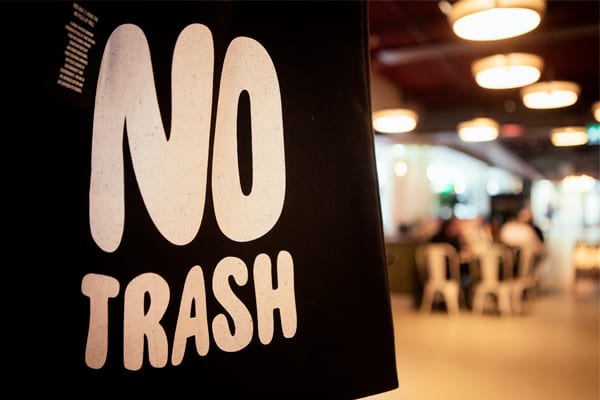 No Pizza pays close attention to the origin of the ingredients it uses. The backgrounds and operating methods of partners are carefully investigated. Eco-friendliness is reflected in all of the materials used at the restaurant, from the uniforms worn by employees to the tableware and furniture. Minimising waste is also a high priority. Customers are provided with No Waste paper bags to take home any leftovers, no matter how small.
"We look at everything through the lens of sustainability and we want to make it easy for our customers to make sustainable decisions," Ahtiainen explains.
No Pizza joined by Hey Poke and Social Burgerjoint
Citycenter's appeal has been further increased by the completion of the restaurant zone, which spans more than 1,000 square metres. In addition to No Pizza, Citycenter's intriguing new restaurant brands include an artisanal burger restaurant called Social Burgerjoint and Hey Poke, which is serving up Hawaiian poke dishes on the second floor.
According to Marianna Viirre, Marketing Manager at Citycenter, the aim for the restaurant zone is to bring together a wide range of high-quality restaurants of different types.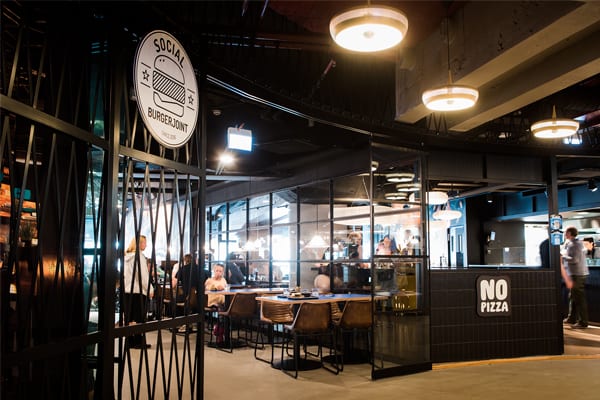 "No Pizza is a great fit with our urban shopping centre concept, which has sustainability as one of its key components. With the new restaurant zone, we want to give our customers access to interesting restaurant brands that not only serve up delicious meals, but also have core values that promote sustainability in business and the renewal of Finnish restaurant culture," Viirre says.
The Sponda-owned Citycenter was awarded BREEAM In-Use Very Good environmental certification in 2017. Also in 2017, Sponda was ranked first in its peer group in Europe in the property sector's international GRESB benchmark survey, and the company was selected as a Sector Leader in recognition of its leadership in sustainable development.
What No Pizza is known for:
Sustainability is at the heart of the concept
No cash accepted
A proprietary sourdough pizza crust and a pizza cheese developed in partnership with a Kuusamo-based cheesemaker
The pizzas are prepared in an open black box bar kitchen in the middle of the restaurant
More than half of the toppings are added to the pizzas after baking
Even the dessert is baked in a pizza crust, big enough to serve 2–4 people
The selection of beverages to accompany the pizzas includes a French rosé and a pale ale developed for No Pizza by the craft brewery Stadin Panimo
The restaurant is decorated with local art
A unique soundscape has been designed for the restaurant, matching the brand and its core values
Published 22.9.2018
Share