Bring a breath of fresh air to office premises – how to get a green wall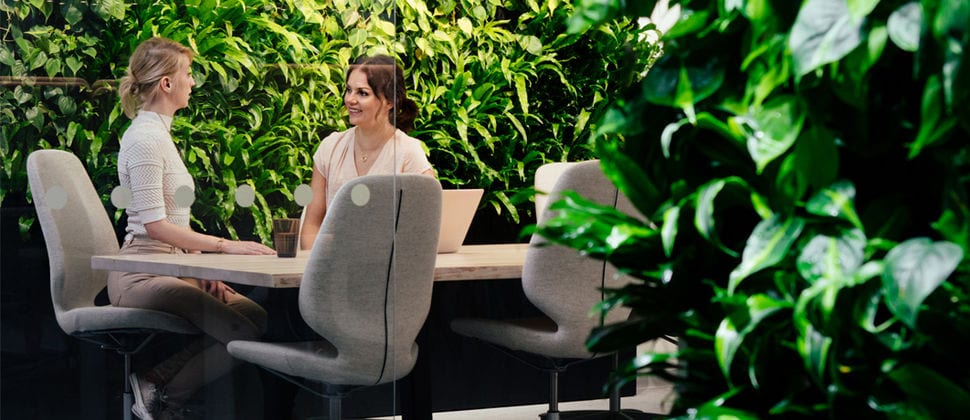 Bring a breath of fresh air to office premises – how to get a green wall
More and more companies are thinking about putting up a green wall to freshen up their business premises. But how do you go about getting one?
1. What need the green wall should primarily satisfy?
First determine what need the green wall should primarily satisfy. Do you want a visually impressive wall element, or do you also want the green wall to freshen up or purify the air inside the premises? A dry moss wall is a more cost-effective purchase for spaces such as lobbies and hallways.
"By its colour alone, a green wall creates an impression of sustainability and green values."
Living green walls that have a natural air freshening effect and air purifying Naava smart green walls provide the greatest benefit in meeting rooms or workspaces where people spend extended periods of time.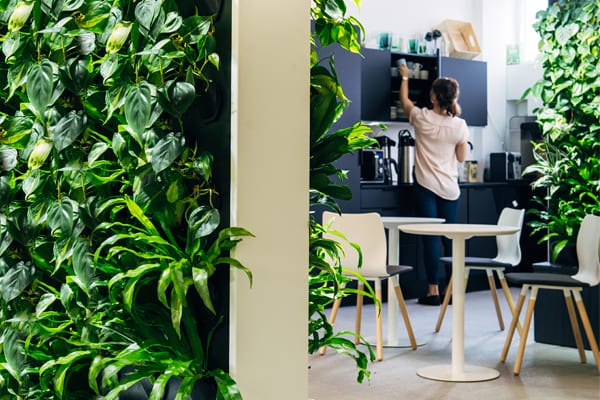 2. What are the requirements for the premises?
Living green walls and Naava walls require electricity and sufficient space. Both of them can also be installed with their own lighting fixtures in windowless rooms. As a living green wall increases air humidity, good ventilation is another requirement. The air purification efficiency of Naava walls can be adjusted. The higher the efficiency, the greater the humidifying effect.
3. What are the risks!
For a living green wall, the safest option is a modular wall with closed water circulation. For the purposes of irrigation, large units are usually connected to the water supply, which means that drainage is also required. Allergy risks can usually be prevented by the right choice of plants and professional maintenance. Risks can also be reduced by first renting a wall for a trial period or by choosing a soilless green wall.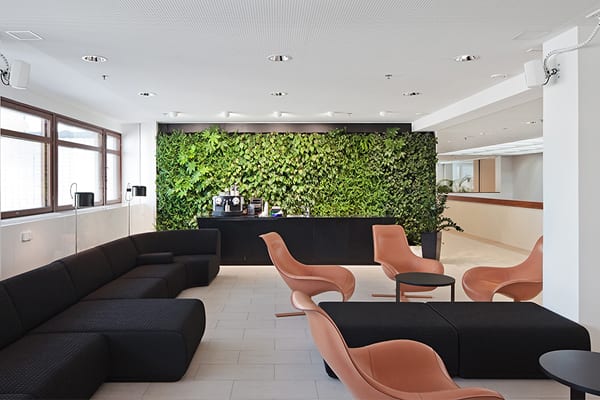 4. When is the best time to get one?
Many companies add a green wall when they renovate or move to a new office. This way, the wall can be designed to fit the rest of the interior decoration. Naava walls and certain plants used in other living green walls are also scientifically proven to reduce the concentrations of renovation-related chemicals in indoor air.
5. What do we need to do ourselves?
The supplier usually takes care of the installation of the green wall. The products can also be acquired with a full maintenance service. The company that has the green wall in its premises can choose to fill the water tanks.
6. How long does it take and what does it cost?
The delivery time for a living green wall is typically 2–8 weeks depending on whether the wall is a standard product from the supplier's inventory or made to order. The prices of door-sized Naava walls start from €3,500, while the prices of living green walls start from approximately €3,000 (Innogreen). A moss wall of similar size costs about €700 (Innogreen). Green walls are also available as leased services and for rent.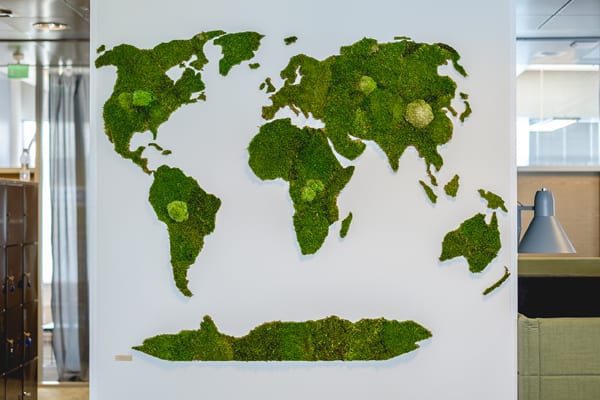 7. What are the benefits of a green wall?
Even as a mere visual element, a green wall is an attractive addition to business premises and it makes the space more comfortable. Moss walls, in particular, also have a positive effect on acoustics. By its colour alone, a green wall creates an impression of green values." Living plants also filter the indoor air and the Naava walls based on smart technology even have scientifically proven health effects.
WHICH GREEN WALL IS RIGHT FOR YOUR COMPANY?
Landscaped green wall: A visual element made from moss or plants that do not require any maintenance.
Living green wall: The plants grow in soil or an alternative medium. The natural activity of the plants purifies and freshens the air.
Naava smart green wall: The plants grow in an inorganic growth medium that consists of rock material and activated carbon, among other things. The scientifically proven air purification effect is based on filtering air through the roots of the plants. The wall is remotely controlled and self-regulating.
Experts: Eeva Niemelä, Naava, Oula Harjula, Innogreen
Kiinnostavatko innovatiiviset ja työhyvinvointia lisäävät toimitilat? Ota yhteyttä, niin kerromme lisää! >>
Published 28.10.2018
Share