Sponda commits to Science Based Targets initiative (SBTi) to support emission reduction targets 
Sponda commits to Science Based Targets initiative (SBTi) to support emission reduction targets 
Sponda Ltd                               Press release                28 March 2022 at 9:30 a.m.
Sponda commits to Science Based Targets initiative (SBTi) to support emission reduction targets
Sponda, one of Finland's leading real estate asset management companies, has joined the ranks of international pioneers by committing to science-based climate targets set by the Science Based Targets initiative (SBTi). In line with the Paris Agreement, the initiative aims to limit global warming to 1.5 degrees Celsius and achieve net-zero emissions by 2050.
The Science Based Targets organisation comprises CDP (Carbon Disclosure Project), a platform for increasing transparency of carbon related disclosures, the UN Global Compact initiative, the World Resource Institute (WRI), and the environmental organisation WWF. The global initiative involves more than 2,000 companies, more than half of which have already been approved for their targets.
"This is a significant commitment for us and it is important that alongside the thousands of businesses already involved in this, we achieve our climate targets based on science and in line with best practices in the sector. By making this commitment, we hope that other Finnish companies will be encouraged to join global efforts to fight climate change." says Sponda's Head of ESG, Pirkko Airaksinen.
Minimising the emissions of both the company and its value chain
Sponda received approval from Science Based Targets for its own emissions reduction targets on 24 March 2022. The aim is to commit not only to reducing emissions from energy consumption, but also to minimising emissions throughout the value chain, such as construction and property maintenance.
Reducing emissions is central to Sponda's own climate target, which aims for full carbon neutrality for in-use energy consumption by 2030. Sponda is aiming to reach this target for example by reducing its own energy consumption and increasing the production and acquisition of renewable energy.
Other examples of Sponda's sustainability efforts include Finland's largest roof-powered solar power plant, which is on the roof of the Elo shopping centre, and the construction of a wind farm in Ostrobothnia, which will generate 100% of the energy used in Sponda's properties with emission-free wind power. Sponda has also acquired environmental certifications for all five of its shopping centres and aims to certify all of its properties in Helsinki city centre, as well.
Sponda was ranked amongst the top companies in the international GRESB Real Estate Assessment (Global Real Estate Sustainability Benchmark) for the ninth time in a row in the autumn of 2021. The company was the highest-ranking company in Northern Europe and the second highest in Europe in its peer group in the GRESB Standing Investments 2021 assessment. In the GRESB Development assessment, which evaluates the ESG performance of real estate development projects, Sponda ranked third in Europe in its peer group.
Sponda Ltd
Further information:
Anita Riikonen, Marketing and Brand Manager
tel. +358 40 833 3804, anita.riikonen@sponda.fi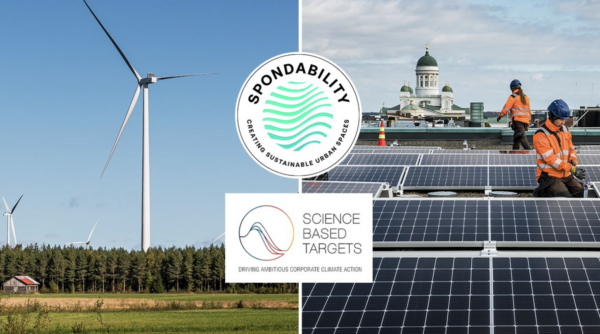 Sponda Ltd is a leading real estate asset management company in Finland specialising in owning, managing, developing and letting commercial properties in the largest cities across the country. With a focus on customer-oriented solutions and high-quality properties, Sponda is actively developing best practices in the sector, enhancing the cityscape and the environment in a sustainable way, and supporting its customers. https://sponda.fi/en/